Service Bulletins & Newsletters
---
| | |
| --- | --- |
| Subject: | Converting a V460D & V461D Engine to V465D Shell Bearing Center Main Style Journal |
| Engine Models : | Engine Models : V460D, V461D & V465D |
| Service Bulletin #: | Form MC-2 |
| Date Issued: | not available |
---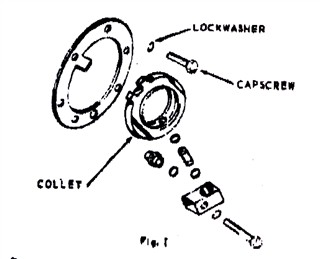 Disassemble all parts illustrated, from the gear cover end of the crankcase. The collet is removed as part of the crankshaft assembly. Retain the five 5/16-18 x 3/4" long cap screws and lock washers (one additional cap screw and lakeshore are required for mounting the new bearing retainer plate). Discard all other parts.

---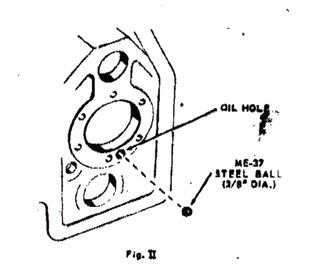 Plug the oil hole in the front face of the crankshaft with a 3/8" diameter steel ball (Wisconsin part # ME-37). Drive the ball in past the bearing retainer plate mounting surface.
---

1) Remove oil filter mounting nipple for drilling and tapping operation
2) Thru oil filter nipple hole ; 29/64" drill thru) , for 1/4-28 straight pipe tap
3) Assemble RF-1299 elbow from inside crankcase, Refer to Figure # 47 of Instruction manual for position of elbow for alignment with oil line to center main bearing.
Assemble the crankshaft (CA75-C Series, V465D engine), and the shell bearings with the appropriate bearing hanger and oil line, per the instructions on page 30 and 31 of the instruction book and parts list for Models V460D, V461D & V465D.
All the parts necessary for this changeover, except ME-37 (3/8" diameter steel ball, are illustrated on Pages 34 and 38. By means of the identifying reference number, the correct service part numbers can be obtained from the parts list.

---
Back
---

| home | contact us |

Copyright (2003) WMC Last updated 04-25-05