Crankshaft Identification Guide
The information contained on this page is to help determine what type of crankshaft is installed in various engines and long blocks. We will be adding items on a regular basis. While the list below is by no means complete it is a start. Parts books for the older models do not list the casting #'s. If you can match some up for us with the correct engine we would appreciate your reply.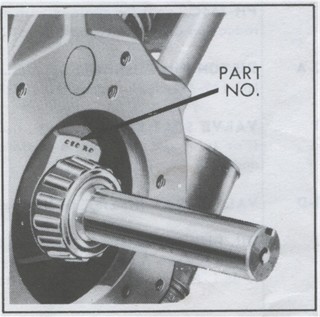 The crankshaft casting # (which is the part #) can be found in various locations depending on the engine model. With some models you can remove the pto side main bearing pate and you will find it right there. On others the engine has to be stripped or the oil pan pulled off so you can see where the numbers are on one of the counterweight.
| | |
| --- | --- |
| Crankshaft # | For One Cylinder Engines |
| CA48D | AEN, AENLD |
| CA51, CA51A | ACN, BKN |
| CA73 | AGND |
| CA79 | S7D |
| CA80 | S10D, S12D, S14D, W1-588 (S14D) |
| CA82 | S8D, TR10D |
| CA84 | TRA10D, TRA12D |
| | |
| --- | --- |
| Crankshaft # | For Two Cylinder Engines |
| CA62 | TE, TF, TH |
| CA86 | THD & TJD standard 1.4375" dia. keyed, extends 5-1/8" out from the face of the case, .375" wide keyway slot, end not drilled and tapped |
| CA86-2 | Standard clutch shaft, 1.4375" dia. with woodruff keyway slot on one side, other side has hole drilled with letter 'A' drill, 3/16" deep for clutch locking screw. Easy to convert a standard CA86 shaft to this style using regular square keyway slot instead of woodruff keyway. |
| CAA101 | W2-1230, W2-1250 |
| | |
| --- | --- |
| Crankshaft # | For Four Cylinder Engines |
| CA55 | VE4D, VF4D |
| CA68-3 | . |
| CA69C | VG4D standard crankshaft, 1.5" dia. keyed |
| CA69C83 | Replaced by CA69C149S1, threaded water pump shaft, used by C,H & E pumps, 1.5" dia, extends 5-5/16" out from the face of the case |
| CA71A | 1.4375" dia. keyed shaft, extends 6-5/16" out from the face of the case, standard VH shaft |
| CA71A36 | 1.4375" dia. keyed shaft, length 2-7/8" from face of the case,.375" wide keyway slotspecial machining also done on end of shaft and an additional keyway slot is cut in opposite the std. keyway, see drawing |
| CA71A200 | Standard VH4D 1.4375" dia. keyed shaft but only extends out 5-11/16" from the face of the case |
| CA71A201 | Tapered shaft with woodruff keyway slot, total length from face of case is 3-5/16" |
| CA75, CA75C | V461D, V465D |
| CA89 | W4-1770 |
---
| | |
| --- | --- |
| Stubshaft & Crankshaft Extension Assemblies | For Engine Model |
| UC60 Series | VE4D, VF4D, VH4D |
| UC84, UC84-1, UC84-14 | VG4D |
| UC84-11, UC84-13, UC84C, UCA126 | V461D, V465D |
| UC94F Series | AGND, THD |
| UC205 Series | W2-1230, W2-1235, W2-1250 |
| UCA Series | W2-1230, W2-1235, W2-1250 |
Back
---

| home | contact us |

Copyright (2003) WMC Last updated 04-28-05