New Engines and Long Block Assemblies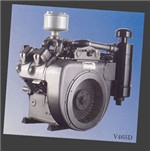 For more than 80 years, WISCONSIN air-cooled engines have not only been selected to power a wide variety of commercial and industrial equipment applications, but have set industry standards for engine construction and performance. One single and five multi-cylinder models of gasoline-powered engines (with alternative fuel capabilities) offer power ranges from 9 hp 66 hp.
These engines are ideal for a wide variety of applications including floor buffers, carpet cleaning equipment, concrete saws and pumps, power washers, shredders, marine hoists, welders and duct cleaning trucks to name a few.

Long block assemblies minimize downtime and are available for models AENL, BKN, THD, TJD, VH4D, W4-1770, VG4D and V465D. These assemblies are new and include the following parts: crankcase, cylinder assembly and head, gaskets, bearings, pistons and rings, crankshaft, connecting rods, bearing plate, gear train and cover, governor, oil pan and oil pump.
New engines and long blocks carry the standard factory one year warranty. Our rebuilt engines and long blocks carry a 90 day warranty.
Model AENLD

Model
THD

Model
VH4D

Model W4-1770

Model
VG4D

Model
V465D

Cylinder

1

2

4

4

4

4

Bore
(in. /mm)

3.00/76

3.25/83

3.25/83

3.25/83

3.50/89

3.75/95

Stroke
(in. /mm)

3.25/83

3.25/83

3.25/83

3.25/83

4.0/102

4.00/102

Displacement
(cu. in. /cc)

23/377

54/883

108/1765

108/1765

154/2524

177/2901

HP @ 1500

4.3

9.1

18.7

19.7

27.0

38.0

HP @ 1800

5.4

11.7

22.5

24.2

32.0

47.5

HP @ 2000

6.1

13.1

24.7

27.1

34.0

52.4

HP @ 2200

6.8

14.2

26.5

29.6

36.0

56.7

HP @ 2400

7.4

15.2

28.0

32.0

37.0

60.0

HP @ 2600

7.9

16.4

29.2

33.6

63.0

HP @ 2800

8.5

17.0

30.0

34.6

64.5

HP @ 3000

8.9

17.5

35.0

65.9

HP @ 3200

9.2

18.0

HP @ 3400

9.2

18.2

HP @ 3600

9.2

18.2

Torque
(Ft-Ibs@RPM)

16@2200

34@2000

66@1800

71@2000

95@1600

139@1800

Weight-
in Ibs

110

220

310

330

410

530

Dimensions
(L" x W" x H")

18 x 22 x 19

19 x 23 x 26

27 x 28 x 26

30 x 26 x 28

28 x 31 x 29

34 x 28 x 36
Back
---

| home | contact us |

Copyright (2003) WMC Last updated 04-27-05